NOTICE - Slovak Post suspends the receipt of shipments to countries where mail cannot be delivered due to local COVID19 counter-measures in force. The possibility to select transport by Slovak Post has been therefore disabled on our e-shop. We will enable this option again, as soon as it is available.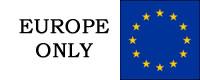 This is official B2B and B2C European Novatec e-shop
Customers from non-EU countries should contact us prior to ordering goods from this site due to our shipping limitations outside EU.
Prices for B2C customers are shown with 20% VAT included, while prices for B2B customers are shown individualy for each registered and approved customer. B2B system is meant for AM and OEM, not for end-users. Each B2B client will receive login data after registration with us. Having login data B2B customer can start purchasing goods from here.