UK CUSTOMERS - please do not place your orders until further notice!
IMPORTANT NOTE - OUR LOGISTIC PARTNERS REFUSE TO ACCEPT DELIVERY TO OUR UK CUSTOMERS DUE TO UNCLEAR SITUATION WITH BREXIT. THEY CAN NOT PROVIDE GUARANTEE OF GOODS DELIVERY. THEREFORE, WE ARE FORCED TO STOP OUR SERVICE FOR ALL UK BASED CUSTOMERS. WE WILL LET YOU KNOW AS SOON AS SITUATION BECOME CLEAR AND OUR LOGISTIC PARTNER RE-START ITS OPERATION.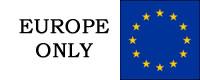 This is official B2B and B2C European Novatec e-shop
Customers from non-EU countries should contact us prior to ordering goods from this site due to our shipping limitations outside EU.
Prices for B2C customers are shown with 20% VAT included, while prices for B2B customers are shown individualy for each registered and approved customer. B2B system is meant for AM and OEM, not for end-users. Each B2B client will receive login data after registration with us. Having login data B2B customer can start purchasing goods from here.

The latest Novatec/Joytech catalogues could be downloaded from Download section.